I first heard of this vegetable as the Gilfeather Turnip, but it's actually a rutabaga. Like other members of the rutabaga group (Brassica napobrassica) it has a long tap root and rootlets issuing forth in two bands that run down the opposite sides of the tuber. Unlike other rutabagas we know it is white skinned http://www.oakleyonorder.com/ and white fleshed whereas the usual rutabaga has a purple band of skin on the outside and inside the color is a delectable creamy yellow. (Also, a turnip is round and doesn't have those rootlets or taproot.)  The flavor of the Gilfeather is rooty sweet with a bit of a peppery twang, much like any rutabaga, but many say, so much better.
When the Slow Food's Ark of Taste first got going in the USA, this was one of the earliest members to board.  Seeds were scarce since the Vermont farmer, John Gilfeather, who grew this vegetable, was so protective of his favorite vegetable that he cut off both the tops and the long roots so that they couldn't be Oakley Sunglasses cheap cultivated. Seed of course, was out of the question, but it's hard to possess anything in full and a few seeds did get away. Thanks to the Ark of Taste and a few intrepid farmers, you can buy the Gilfeather turnips/rutabaga not exactly everywhere, but in a few select farms. (Find them by going to slowfoodusa/arkoftaste. Look up Gilfeather turnip then go to Local Harvest to find who is growing them. There are a few farmers.)
John McClendon, a farmer in the Phoenix area, is one who grows Gilfeather rutabagas. He placed a hefty specimum in my hand before we each packed up our books and vegetables at the Scottsdale Eileen Fisher store. (We were both showing our wares in this clothing store, but that's another story.) I was thrilled with the gift and a tucked it carefully into my suitcase to take home.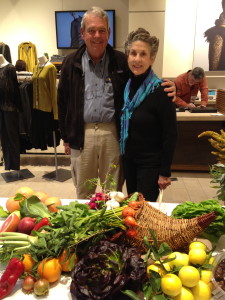 But the next day I was lucky enough to taste one at FnB Restaurant, also in Scottsdale, grown by Mr. McClendon and prepared by the talented chef Charlene Badman. I can't give away her secret, but I can say that it was a delectable dish—golden, caramelized, and oddly enough, heart shaped, but not cheap oakley sunglasses through any contrivances on Charleen's part. Cut a rutabaga lengthwise and you might just get a big heart. And if you turnout to be a real fan of the Gilfeather rutabaga, this might just be your Valentine's special. And keep your eyes open for this special heirloom vegetable.