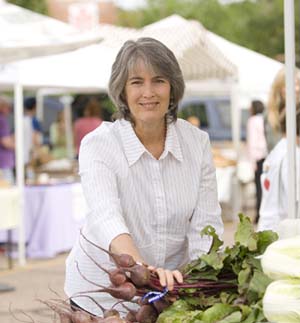 2013
March 12: Vegetable Literacy comes out.
March l8: Radio interview with Mary Charlotte, on KSFR, 9:00AM
March 20: Conversation and book signing with author James McGrath Morris
at Collected Works in Santa Fe, 6:00
6 pm – 7 pm

Omnivore Books

3885 Cesar Chavez, SF

Book Signing

http://www.omnivorebooks.com/events.html

Camino Restaurant, Oakland

Ticketed book dinner with 4-course menu from Vegetable Literacy. From 6-7pm, informal meet-and-greet, book signing. 7-9pm, seated dinner.

Brief talk, Q&A, book signing

In-conversation with Michele Anna Jordan, followed by recipe samplings and book signing. Tickets cost $15.

Book Passage Cooks with Books luncheon

Location: Left Bank Restaurant

Point Reyes Station CA 94956

10000 Sir Francis Drake (corner of Hwy 1 & Sir Francis Drake)

"Sunday Supper with Deborah Madison" Benefit for Point Reyes Farmers' Market. Hosted by owners/chefs Daniel DeLong and Margaret Grade. They will prepare a meal for 40 people using 5-6 recipes from the new cookbook. Deborah will talk for approx 20 minutes and then there will be a Q&A. Tickets $70 per person.

Book talk, Q&A, recipe sampling, signing
April 24: Ace Hotel in Portland, Oregon, conversation with Diane Morgan, the author of Roots, The Definitive Compendium, evening (to be announced)
April 28: Conversation with Kim Carlson of Culinate.com, Broadway Books, 3 to 5
The Whale Wins (A Book Larder Event)

James Beard-nominated chef Renee Erickson prepares 3-course lunch inspired by the book.

4252 Fremont Avenue North

Bainbridge Island WA 98110

Meet-and-greet with book signing.

City Fruit fundraiser at Santoro's Books

7405 Greenwood Avenue North

Meet-and-greet and book signing.
(Photo of Deborah Madison by Doug Merriam)