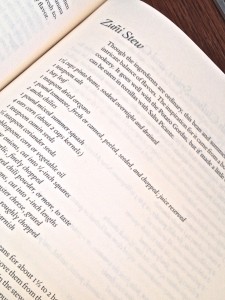 In The Greens Cookbook there's a recipe called "Zuni Stew." It was inspired by my first trip to New Mexico in the l970s, but memory of the exact source has pretty much disappeared. I suspect it's from either a book called Southwest Indian Cookbook by Marcia Keegan, or from The Pueblo Indian Cookbook by Phyllis Hughes, both books I bought on my first trip to New Mexico. In any event, my recipe had little to do with Zuni, or with Zuni dishes as described in either of those books. I had made changes to make it more lively and contemporary, and it proved to be a good and well-liked dish at Greens. But was it Zuni? Probably not so much. But then, what is today?
Recently I went to Zuni with the intention of looking at their waffle gardens. I had seen one at the Museum of Indian Arts and Culture in Santa Fe and it left me hungry to see more and talk to people who had experience gardening in them. By chance, an invitation came a few days later. There was going to be a health fair at Zuni and would I come and speak a bit? Of course, I would! So I drove to Zuni, where I met a lot of women involved in various government programs meant to insure or create paths to health. They were all at the Health Fair with tables of information and foods to taste. The WIC program, breast feeding support services, programs to combat diabetes, senior programs and one for teen health, healthy babies and a Zuni family preservation program were all represented. One group had designed a Jeopardy style program that the Zuni kids enthusiastically took part in. There were signs for non-competitive runs, walks, bike rides.  Gifts and rewards are given to attendees of anything health related, and it seems that the community shows up. They did that night. And I was given a handsome long-sleeved t-shirt that's just perfect for the now cool mornings.
One sees large hornos (adobe ovens) throughout Zuni, as many as 3 to 5 in a yard. I was told the reason there were so many and that they were so large was because they were used for community feast days when they needed to cook a lot of food. There is one market and one restaurant that serves pizza, subs, hamburgers, surf and turf and enchiladas. A lone Boca burger is the most healthful option. There are no native foods on the menu. There's no McDonalds or such, either in Zuni pueblo, but the kids apparently know and like fast food. So at the fair there were samples of alternatives to the high fat/sugar/soda offerings of the outside world. I tried a popsicle made with water and fruit that was extremely refreshing in that dry place, and also waters that were infused with fruit, in this case ample amounts of raspberries, strawberries , pineapple and such. They were eye-catching and delicious. I can easily imagine the appeal of lots of fruits, especially red ones.
A woman at the table devoted to combating diabetes was preparing strawberries with a topping of lightly sweetened low fat Greek yogurt. Everywhere the emphasis was on low fat or non-fat dairy and how to use USDA foods. There was but one table that showcased native foods through both a picture display of various native corn, squash and beans, the actual foods themselves, then three stews. The recipes weren't exactly Zuni. I was told, but cobbled together from Lois Ellen Frank's first book on native cooking of the Southwest. But they were food – real food. Delicious and light, or filling and robust stews that were based on beans, meat (in one), and various forms of corn were offered. My favorite was a corn and posole stew with sunflower sprouts. The fresh corn was cut into chunks; the sprouts were added at the end, and posole was another form of corn and the liquid was chicken broth, I believe from a box. There might have been onion in it — but whether it did or not, it was pretty, good to eat and very satisfying. I would have loved to have been able to orders such a soup at the restaurant. Or the infused waters. Or the fruit icicles.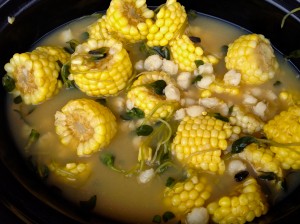 My doctor was, when I described it to her, very dismissive of the carbs. in the corn soup. They were the problem, as she saw it, with diets and food in general, especially in the pueblo communities. But I couldn't help but think if these were the carbs. you ate, along with other traditional foods and pretty much only those, it would be indeed as nourishing as it tasted, and quite possibly, not a problem at all. Try making it fit with USDA provisions and modern American tastes, and it does get confusing and is problematic. I felt that the Zuni, among the loveliest, kindest, and most happy people I have met anywhere, are caught in the tensions between their traditions and the modern world.
As for the waffle gardens, I saw one. It was very small, sadly limited by the high cost of water. But in the museum there were some great depictions in a mural, and in movies made in the l920s, so in a way, I did see them. And more about them, later.