It's been a long, hard, hot, dry summer and I've tried many times to write about it, but it always gets too moany-groany. So here's the abbreviated version of what I learned from this summer's drought, which is actually year 3 of a longer dry period.
When it's dry, plants die. The world is brown instead of green. It's easy to become depressed.
When it's dry, there are no mosquitoes, so it's a pleasure to sit outdoor in the evening.
During the drought the lilac buds just dried up without opening.
There are very few larkspur, although their blooms are welcome.Usually there are hundreds of them.
Leaves on the fruit trees yellow and fall early.
Those plants that do come up seem feeble. They're shorter. They don't feel robust, even when watered.
One carries a lot of water from the kitchen to the Magliette Calcio A Poco Prezzo garden. Where will a gallon of water be most effective?
Plants don't thrive under hose-water, even if it is drip and is from a well. It's just not like rain.
There are no weeds during the drought. No sprouting elms, no native sunflowers, no buckwheat or mountain spinach (orach), amaranths, pigweed, and tumbleweeds.  There are however lamb's quarters and purslane. A lot of each.
When it finally does rain, which, miraculously it did, we are ecstatic.  Strangers talk with one another with hope and happiness in their voices.
I actually think for the moment that the crisis is over, that our weather world will be normal again.
The world turns greens. Or at least greenish.
There are mosquitoes. Lots of them.
And there are weeds. Hundreds and thousands of them.  They were just waiting for that moisture to fall from the sky. I tug at this grassy carpet pulling up elms, sunflowers and amaranths especially, by the handful. If these little green plants were insects or mice, their sheer number would be http://www.magliettedacalcioit.com alarming. Even as plants, go, it's alarming. The fecundity of annual plants is such that one year when I didn't weed then went into the far back yard, I was frightened by their sheer density. (The next year is when I started a garden.)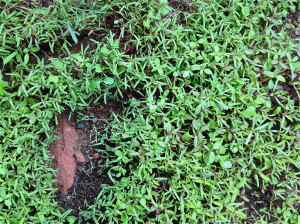 And now that the mosquitoes have driven me inside, I check my e-mail, and there's notice for a conference —next February, which is six months hence—whose topic is "Drought, Opportunity for Change." And that's the same conclusion I've come to this summer. Despite the puddles in the driveway, drier times will continue and I've come to believe that the most important thing to cultivate is not this plant or that, but a rising mind, one that looks for and finds those opportunities that must be met if we wish to continue gardening for pleasure, growing food, and finding joy in our drying world. The conclusion?
I'm not moving to a rainier clime (at least for now). And I'm going to tackle gardening in hard times with gusto.