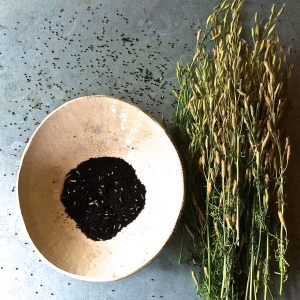 Larkspurs are a great annual plant, one that that flowers and seeds abundantly. I love this plant because it's generous and beautiful. Its little black seeds germinate with ease and produce tall stalks of delicate flowers in shades of blue, purple, pink and near white. Over the years I've selected seeds from those with the richest azure color, and now my larkspur are stunning in they blue and purple groups, which is how they tend to grow.
I started with larkspur nearly twenty years ago when we moved into a house whose yard was barren. It was one of those lots that had been scraped clean, save for the house. A friend gave me a handful of larkspur seeds and another handful of deep red giant amaranth. I tossed both into the dirt and lo and behold, they all —or so it seemed—germinated. The amaranth was a little creepy with it's big, nodding blood red seed heads on six-foot tall stalks. My husband asked me not to plant them again and I didn't. But come spring, thousands of them came up, carpeting the lot with a sea of scarlet leaves. They were gorgeous—and edible.
The larkspur was easier to handle. They were robust growers to be sure, but not overwhelming like the amaranth. Certainly not creepy. As the latter came out and more perennial plants came in, the blue blossoms of the larkspur seemed to harmonize with every color, especially the silvers and grey plants. Plus they could also end up in a vase and look sprightly for a nearly a week. I started saving the seeds, which is easy to do, and have ever since. I wanted those flowers again. And I've had them ever since—everywhere!
Today, in a different yard and a hotter summer, I noticed that the seed heads were starting to open a month early and that the flowers were so diminished in number that the hummingbirds had little interest in them. I also was ready to reveal some of the plants the larkspur were hiding —a handsome oregano plant, a culinary sage coming into a second bloom, the gorgeous Mojave sage, a stand of rue, clumps of ornament grasses that  had come back after the gopher snake moved in,  and above all,  a snaking trail of Blonde Ambition, a striking grama grass that didn't need the punctuation of larkspur given that it's own handsome seed heads were about to emerge.
I started clipping the seed heads that were open and bringing them into my office where I set them on a  metal table. With every bump from me, the dog, or a whoosh of wind, the black seeds came tumbling out of their elongated pods. There are so many. I've already given some away and there are thousands more seeds that will fall out while I'm at the Seed Savers Exchange Campout this next week. Unless I get busy.
I'm thinking the time has come to use a little more control, having stands of larkspur only here and there where they set off other plants or cluster together to make a purple-blue haze, rather than having them come up willy-nilly everywhere. So if time allows before I leave, I'll be ruthless about pulling out the rest of the plants that remain, their seed heads still closed and ripening.